What is"Supri®" Sopressata?
Sopressata is a dry cured sausage that is classified as "Salami" by the United States Department of Agriculture (USDA). Dipollino's "SUPRI" Sopressata is a 100% Pork product. We pride ourselves in using the leanest and freshest Pork available.
The Process: The only ingredients in our Sopressata are Salt, Red Pepper, Black Pepper and Paprika. These ingredients are weighed out, mixed together, added to the coarsely ground Pork and then mixed thoroughly.
Once the meat is mixed well it is bagged and put back into the refrigerator to be kept at 38° for two days. On the third day the fresh meat is mixed again and then it is stuffed into Fibrous or Collagen casings. It is then hung in a humidity and temperature controlled environment until it is cured. This procedure takes anywhere from four to twelve weeks depending on the diameter of the casing used and the amount of the Sopressata that is in the curing room.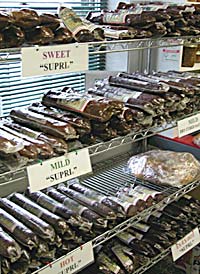 In order to know when the "SUPRI" is cured we have to cut one down and cut it in half to check the dryness of the meat. When we are sure they are done and will meet the USDA requirements we send samples from several "SUPRIS" to a Laboratory where they do the required testing. The USDA requires that we test for E Coli 0157 H7, Listeria Monocytogenes and the Moisture/Protein ratio. After the Lab sends the paper work confirming that all of the USDA requirements are met we can package and sell our product. We test every batch that is manufactured at an independent Laboratory (Vallid Labs Inc) in Agawam, Massachusetts.
Our "SUPRI" is a minimum of 90% Fat Free. This fat content test is also done at the lab. We test every batch that is made and the highest Fat Content recorded over a ten year period is 9.52%, which makes our product slightly over the 90%, that we advertise our SUPRI to be.
"SUPRI" aka "SOUPY"
Westerly, RI and the surrounding areas are the only places that it is called "SOUPY" or "SUPRI". The residents here consider the town of Westerly to be the "SUPRI" capitol of the country, each year in our small town there are tens of thousands of pounds of this flavorful sausage made by individuals in their own homes. This dry cured sausage is a byproduct of Italians from the region of Cosenza, in Calabria, Italy, it is a small town in southern Italy, and Westerly RI is made up largely of descendants from this region of Italy and to this day they carry on the tradition of their forefathers in the making of Bread, Wine, Sopressata and Cheeses. If you ever have the opportunity to visit Westerly and someone offers you a taste of their Sopressata try it, you will be glad you did. Everyone in town that makes Sopressata will tell you the same thing that theirs is the very best!
From Wikipedia: Paprika is a spice made from the grinding of dried Capsicum (e.g. bell pepper). In many European countries, the word Paprika also refers to bell peppers themselves. The seasoning is used in many cuisines to add color and flavor to dishes. Flavors also vary widely from country to country. In Spain, pimentón or sweet Spanish paprika, is a key ingredient of several sausage products, such as chorizo or sobrasada.
Paprika is unusually rich in vitamin C. Hungary's 1937 Nobel prize-winner Albert Szent-Gyrgyi first discovered this fact in 1932. Capsicum peppers used for paprika contain six to nine times as much vitamin C as tomatoes by weight.
Paprika has as many antioxidants as acai berries from Brazil.